Are you missing pizza on keto? Tired of eating greasy, bland keto pizza? Let's see how to make the best keto low carb chicken crust pizza recipe that is easy to make and full of flavor!
Keto chicken crust pizza
What makes this pizza different from all the other keto pizza out there?
For starters, it's only 1 net carbs per serving (for the crust). Yes, you heard me right. This pizza crust is made with ground chicken which has zero carbs. The one net carb come from a bit of cheese added. And it's loaded with protein, 35 grams per serving.
It's full of flavor. Ground chicken is a blank slate you can flavor any way you like. The options are endless limited by your creativity. So I went to town with this recipe. I never knew I can make ground chicken taste so good until I had a slice of this pizza. I duly converted my carb eating hubby to rethink ordering normal pizza.
It's easy to make. Ground chicken pizza crust takes 20 to 30 minutes from start to finish. I love that I have a quick recipe in hand to make, when pizza cravings strike.
This keto pizza recipe is one of the easiest to make and one that the whole family will love.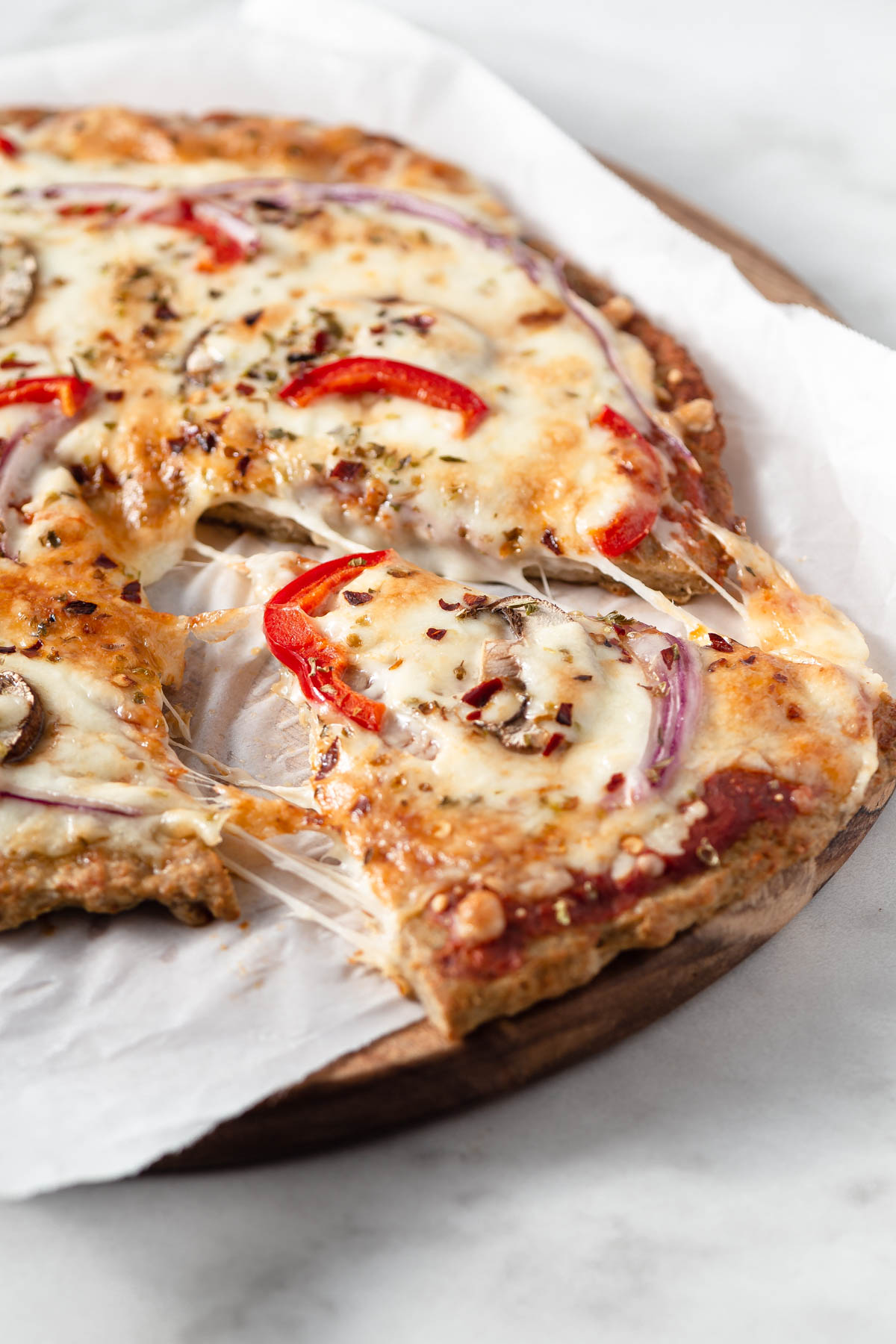 Ingredients
The ingredients to make this delicious low carb ground chicken crust pizza is simple.
Ground chicken - see below for more on what chicken to use.
Egg - use a medium or small egg. Egg acts as a binder.
Oat fiber - is used to absorb the moisture that's been released when the chicken is getting cooked in the oven. You can use coconut flour too.
Parmesan cheese - adds flavor. Ground chicken is bland and this adds an extra flavor profile.
Oregano - gives it a an Italian twist. You can replace this with Italian seasoning as well.
Mozzarella cheese - I buy a block of mozzarella and shred it in the food processor and have it on hand for making pizza. I avoid pre - shredded to keep the carb count low as they contain potato starch.
Pizza Sauce - I spread a few tablespoons of no sugar ketchup on the crust. A few other sauce options are no sugar marinara sauce or keto alfredo sauce. You can omit the sauce altogether.
Toppings of your choice
Ground chicken or Canned chicken?
I use ground chicken in this recipe. I haven't tried with canned chicken but it can be used. You'll want to use a food processer to mince the canned chicken and to combine it with the rest of the ingredients.
How to make
Add ground chicken, egg, parmesan cheese, oat fiber, oregano, salt and pepper to mixing bowl. Mix well until combined. Shape it into a dough.
Now flatten the dough on to a parchment lined baking sheet. I like my crust thin so I flatten it to about ¼ of an inch thick and 10" in diameter. Bake in a preheated oven at 425 degree Fahrenheit for 20 minutes. At this point, you'll see pools of moisture on the crust. Not to worry. Dab it with a kitchen towel and wipe the crust dry. Turn the crust and bake for another 5 minutes.
Add mozarella chesse and your favorite toppings. Broil it on low until the cheese is melted.
Topping ideas for chicken crust pizza
Once the crust is baked, I like to top it with a no sugar ketchup or marinara sauce. Then add the cheese and rest of the ingredients.
I try to minimize meat as toppings since the crust is meat based and choose more veggie toppings.
You can choose your favorite from the toppings below:
Pepperoni
Mushrooms sliced
Peppers sliced
Olives
Red onions
Zucchini sliced
Artichokes
Can I freeze the chicken crust ?
Yes, once the crust is baked let it cool and wrap it in a cling film or foil wrap. The crust will keep in the fridge for 4 to 5 days or can be frozen for 3 months. Just thaw, put your toppings and broil.
The pizza with the toppings can be kept in the fridge for up to 3 days. Warm it using your chosen method : oven or microwave.
Tips for making the best chicken crust pizza
Mix all the ingredients well. I like to use my hands to really get it going. Or pulse it in a food processor. You don't want to pulse it too much.
Use a parchment paper and flatten the dough using your fingertips. I like my crust thin so I like to spread it as far as I can, ideally ¼ inch thick and 10" diameter.
Do not worry when you see pools of water after your first bake. That's ground chicken releasing water when cooked. Dab the water with a kitchen towel and wipe the crust dry. Then turn it over to bake the other side.
More Keto recipes for you to try
Recipe
The Best Keto Chicken Crust Pizza Recipe
Ingredients
1

lb

ground chicken

¼

cup

parmesan cheese

1

tablespoon

oat fiber

or coconut flour

1

egg

medium

½

teaspoon

dried oregano

or Italian seasoning

½

teaspoon

salt

½

teaspoon

ground black pepper
Toppings
2 to 3

tablespoon

no sugar tomato ketchup or marinara

1

cup

grated mozzarella cheese

sliced red onions

sliced mushrooms

sliced red peppers

sprinkle of dried red chili flakes
Instructions
Preheat the oven to 425° Fahrenheit.

Add the ground chicken, parmesan cheese, egg, oat fiber, oregano, salt and pepper in a mixing bowl and mix all the ingredients until well combined. Shape the dough into a round.

Place the dough on to a parchment lined baking sheet. Flatten it with your fingertips to ¼" thick and about 10" in diameter.

Bake for 20 minutes. If there's pools of moisture on the crust, dab it with a kitchen towel and wipe the crust dry. Turn and bake for another 10 minutes.

Remove the crust from the oven, spread the sauce if using. Top it with mozzarella cheese and your favorite toppings. Broil until the cheese is melted and bubbly.
Notes
This pizza makes 4 servings.
Net carb for the crust is 1 net carbs per serving.
With mozzarella cheese and excluding other toppings net carbs is 1.8 grams per serving.
See post above for storing and tips on how to make the crust.
Nutrition
Serving:
0.25
pizza
Calories:
348
kcal
Total Carbs:
4.2
g
Protein:
35.7
g
Fat:
22
g
Saturated Fat:
9.2
g
Fiber:
2.4
g
Net Carbs:
1.8
g
Tried this recipe?
If you like this recipe, I'd love if you can give me a rating and comment! Share this with your family and friends!