Make Air Fryer Chicken Tenders that are juicy and flavorful in less than 10 minutes! These naked chicken tenders have no breading making it perfectly low carb, keto and gluten free and so healthy for you.
Jump to:
These air fryer chicken tenderloins is an easy meal the whole family will love! They're great for little hands to dip in ketchup or any other sauces too. My kids are crazy over chicken tenders. I always have a bag of chicken tenders - fresh or frozen - in my fridge because they make weeknight dinners a breeze. Pair it with air fryer cauliflower without breading and you're good to go!
I love, love cooking chicken in the Air fryer. The chicken tenders come out so juicy on the inside and so delicious you'll be craving for more. The secret is not to overcook it. This is why an instant read thermometer is your best friend when cooking chicken in the air fryer.
These air fried chicken strips can be used as a main dish, or in wraps, cut up on top of salads or on their own with a favorite dipping sauce. So versatile!
For more air fryer chicken recipes, check my Air Fryer Recipe Collection.
Why You'll Love Chicken Tenders In Air Fryer:
Healthy: With no breadcrumbs, no flour, no eggs these tenders are low carb, keto friendly and gluten free. And low in calories. Plus, these healthy air fryer chicken tenders can be enjoyed guilt free because they're cooked in an air fryer.
Quick and Easy: Unbreaded chicken tenders cook quickly and they're done in about 8 minutes. This is an easy recipe with simple ingredients even newbie cooks can whip up quickly.
Delicious: They're so juicy and full of flavor. Nobody wants dry tenders here! The seasoning mix gives enough oomph to these tenders but so versatile that you can mix and match for your liking or use your own.
Ingredients
Chicken tenders: fresh or frozen chicken tenders. You can also use boneless skinless chicken breasts instead of chicken tenderloins. Slice the chicken breasts roughly the same size as tenders for best results.
Oil: Olive oil, avocado oil or any cooking oil you prefer.
Seasoning: Paprika, Onion Powder, Garlic Powder, Italian seasoning, Black Pepper and Salt. You can also use cajun seasoning, lemon pepper seasoning or any seasoning mix you like. Add cayenne pepper for extra heat.
How to Make Chicken Tenders In The Air Fryer Without Breading
*Scroll below for the printable recipe card and ingredient measurements.
Healthy air fryer chicken numbers with no breading comes together quickly. Preheat the air fryer at 390 degrees F for about 3 minutes or until you prep the chicken.
Pat dry the chicken pieces throughly with paper towel. In a large bowl, coat the chicken tenders with olive oil.
In a small bowl, mix the spices together for the seasoning.
Sprinkle the seasoning on the chicken and rub well to coat. Make sure that all the chicken pieces are coated with the dry rub.
Place the seasoned chicken tenders on the air fryer basket in a single layer. Air fry chicken tenders for 8 minutes. No need to flip as they'll be cooked on both sides. The chicken will be cooked when they're no longer pink. You want the internal temperature of the chicken to be around 165˚F.
Remove the air fried chicken tenders and serve warm.
*Air fryers come in different sizes and models, and you may need to adjust the cooking time accordingly.
Expert Tips
Remove the tendons(white muscle piece) from your chicken tenders if there's any.
Dry the tenders thoroughly with a paper towel.
Preheat Air fryer. This helps the chicken cook faster.
Do not overcrowd your air fryer basket. Letting the hot air move freely in the air fryer helps the chicken cook consistently.
It's easy to overcook the tenders so keep an eye on the timer. Also using a meat thermometer to check the doneness rather than eyeballing it gives you perfect results every time!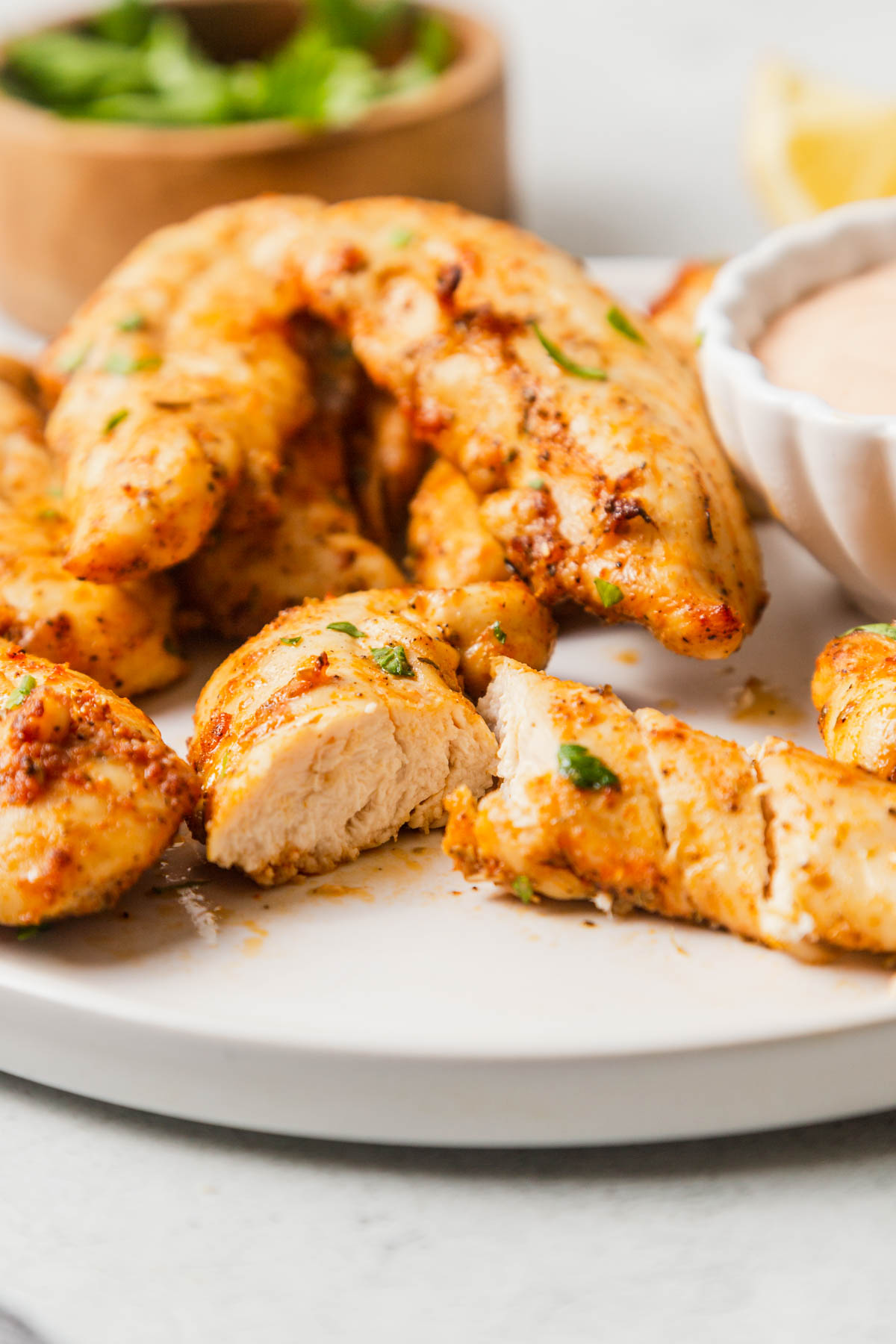 How To Serve Chicken Tenders
Air fried chicken tenders without breading are so versatile they can be included in so many different ways in your meals.
You can serve them as a main dish along with crispy roast potatoes, roasted broccoli or green beans in the air fryer.
Cut up the chicken tenders and top salads for a light and easy lunch. They're delicious in rice bowls too.
If you're looking for an easy filling for wrap or quesadillas look no further. Place the cooked chicken tenders on a tortilla, sprinkle some cheese and your favorite toppings and you're good to go!
Have the tenderloins on their own with the following sauces for an easy snack.
Ketchup
BBQ sauce
Ranch dip
Storage and Reheating
Store: We don't have any leftover chicken tenders here unless it's for meal prep. But if you have any, store leftovers in an airtight container in the refrigerator for 4 to 5 days.
Freeze: The leftovers or cooked tenderloins can also be frozen for later use. Store them in a freezer bag and freeze up to 3 months. You can let them thaw overnight in the fridge.
Reheat: The best way to reheat chicken tenders are in the air fryer. Since you don't want to dry the chicken when reheating, reheat them in a low temperature.
Reheat chicken tender in the air fryer at 350˚F for 5 minutes or until warm.
How long to cook raw chicken tenders in the air fryer?
Typically raw chicken tenders take 8 minutes to cook in the Air fryer. Air fryers differ in size so as the chicken tenders. So use this as a guide. Increase the cooking time if you feel they need more time to cook. When fully cooked, chicken should longer be pink and juices should run clear.
I prefer to use an instant read thermometer to check the doneness of my chicken. This gives me perfect juicy chicken every time. You want the chicken to have an internal temperature of 165˚F at the thickest part, not the edges.
Can You Cook Frozen Chicken Tenders in the air fryer?
Absolutely! Even though the purist in me would ask you to thaw the frozen chicken tenders first, my practical side wants you to go ahead and cook it from frozen.
You may need to adjust the cooking time. Air fry frozen chicken tenders for 10 minutes and check for doneness. If it's not cooked yet, increase the cooking time to another 2 to 3 minutes.
More Chicken Recipes You'll Love:
Love air frying? You can also follow us on Facebook, Instagram, or join our Free Facebook Air Frying Group.
If you make this recipe don't forget to leave a comment and rating below. We love to hear from you!
Recipe
Juicy Air Fryer Chicken Tenders - No Breading
Moist, juicy Air Fryer Chicken Tenders with No Breading in less than 10 minutes. Quick, easy and full of of flavor, it's a low calorie, low carb meal that the whole family will love!
Ingredients
1

pound

chicken tenders

about 8 to 10 pieces

1

tablespoon

olive oil

1

teaspoon

onion powder

1

teaspoon

garlic powder

1

teaspoon

paprika

½

teaspoon

black pepper

½

tsp

Italian seasoning

1

teaspoon

salt
Instructions
Preheat air fryer at 390 degrees Farenheit for 3 minutes.

Pat the chicken tenders dry with a paper towel. In a bowl, add chicken tenders and drizzle olive oil over it.

In a small bowl, mix together the onion powder, garlic powder, paprika, Italian seasoning, black pepper and salt.

Toss the chicken tenders with spice mix until all the pieces are well coated with oil and spices.

Place the chicken tenders in a single layer on the air fryer basket. Air fry for 8 minutes until cooked through. Or until the internal temperatures reaches 165˚F in the thickest part when checked with a meat thermometer.

Remove the tenders from the air fryer and serve with your favorite dipping sauce.
Notes
Storage:
Store leftover chicken tenders in an air tight container in the fridge for 4-5 days.
Reheat in the microwave or the in the air fryer for a few minutes until warm.
Nutrition
Calories:
221
kcal
Total Carbs:
2
g
Protein:
32
g
Fat:
9
g
Saturated Fat:
2
g
Sodium:
952
mg
Fiber:
0.5
g
Sugar:
0.2
g
Vitamin A:
104
IU
Vitamin C:
4
mg
Calcium:
18
mg
Iron:
1
mg
Net Carbs:
1
g
Tried this recipe?
If you like this recipe, I'd love if you can give me a rating and comment! Share this with your family and friends!