Upgrade your snack game with our air fryer frozen chicken fries recipe. Achieve the perfect golden-brown crispiness without the mess of oil.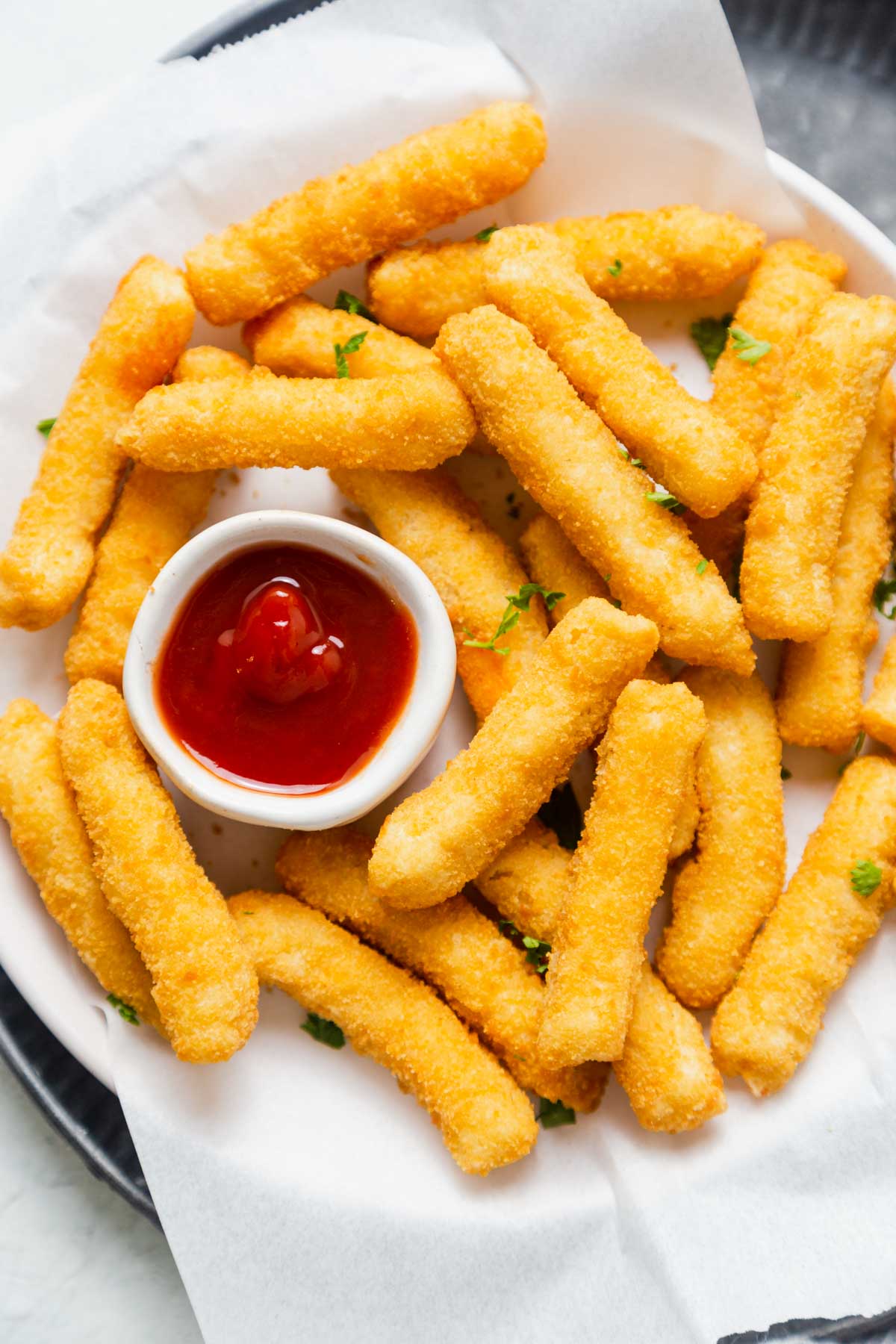 Let me tell you, the first time I tried this recipe, I was blown away by how easy it was. Just pop those frozen chicken fries in the air fryer, set the timer, and voila—crispy, delicious chicken fries without all the oil and mess. It was a true game-changer for me and the kids, and I've never looked back.
I love using the air fryer for other frozen snacks too, from frozen pizza to fish sticks. It's a busy person's best friend, providing quick and tasty meals with minimal cleanup. I can't overstate how much this recipe and my air fryer have simplified and spiced up our family snack times.
For more easy air fryer recipes, check my Air Fryer Recipe Collection.
What are Chicken Fries?
Chicken fries are tender chicken breast strips seasoned with herbs and spices and coated in a super crispy batter. They're deep-fried until they turn this amazing golden brown, creating a combo of juicy chicken and a crunchy exterior. They should remind you of Burger king chicken fries which is discontinued now.
And get this – they're similar to chicken nuggets but in the shape of French fries! Dip 'em in ketchup, barbecue, or ranch for a flavor explosion. Perfect as a quick snack when the fast food cravings hit or a no-fuss meal on the go!
Why You'll Love Air Fryer Frozen Chicken Fries:
Quick & Efficient: The air fryer cooks faster than a regular oven, so this easy snack is ready in minutes.
Less Fat, Same Flavor: You still get that crispy and delicious taste but with way less fat than deep frying.
Easy Clean-up: No more dealing with greasy pans or oil splatters. Just remove the basket, give it a quick wash, and it's ready for your next dish!
Versatility: These fries are great not only for dipping but also for topping salads or as a side and can be catered to the whole family's needs.
What Brand of Chicken Fries to Use
The only ingredient you need for this air fryer chicken fries recipe is your favorite brand of frozen chicken fries.
Tyson chicken fries or the Aldi chicken fries are particularly popular. I used the Zabiha brand here.
How to Make Air Fryer Chicken Fries
•Printable recipe card and ingredient measurements are at the bottom of this post.
Preheat the air fryer to 400 degrees F. Spray the air fryer basket with cooking spray or use parchment paper.
Spread the frozen chicken fingers in a single layer in the air fryer basket. Cook chicken fries for 6-8 minutes until golden brown and crunchy. Or till the internal temperature is 160˚F when checked with a meat thermometer.
*Air fryers come in different sizes and models, and you may need to adjust the cook time accordingly.
How To Serve Chicken Fries
Chicken fries are a versatile dish and can be served in many ways, depending on your tastes and preferences. Here are a few suggestions on how you could serve them up:
With a Dipping Sauce: Chicken fries are the perfect vehicle for your favorite dipping sauces! Some of my favorite sauces are classic ketchup, tangy BBQ sauce, hot sauce or spicy sriracha mayo for an extra kick.
Together with Sides: Pair your chicken fries with some delicious sides for a fuller meal. Fresh salad, steamed veggies, or even a hearty portion of coleslaw would complement the crispy chicken fries perfectly.
In Wraps or Sandwiches: Want a more fulfilling snack? Try adding your chicken fries to a wrap or a sandwich. Add some fresh veggies, a dollop of your favorite sauce, and you've got a delicious, portable meal.
Party Platter: Hosting a game night or a party? Serve your chicken fries on a platter with an assortment of dips.
FAQs
Why are my chicken fries not crispy?
The key to achieving that perfect crispiness is making sure not to overcrowd the air fryer basket. Giving the fries plenty of space helps the hot air circulate better, crisping up your chicken fries evenly.
How to store leftover chicken fries?
If you have any leftovers (although we doubt you will – they're just too tasty!), store your air-fried chicken fries in an airtight container and pop them in the refrigerator. They'll stay fresh for about 3 to 4 days.
How do I reheat leftover chicken fries?
Got some leftover chicken fries? No problem! Just pop those tasty little morsels back into the air fryer or oven. You'll want to reheat them at 375°F (190°C) for about 10 minutes or until they're hot and crispy again. Be sure to flip them halfway through for even heating. Remember, each air fryer can be a bit different, so keep an eye on them to prevent overcooking. If you're in a hurry, you can use the microwave, but just know they might not be as crispy.
Do I need to defrost my frozen chicken fries before air frying them?
No, there's no need to defrost frozen chicken fries before air frying. This goes straight from the freezer to air fryer.
What dipping sauces go well with air-fried chicken fries?
The sky's the limit when it comes to dipping sauces. You might enjoy a classic ketchup or barbecue sauce or try something adventurous like a spicy aioli or honey mustard sauce.
More Recipes You'll Love:
Love air frying? You can also follow us on Facebook, Instagram, or join our Free Facebook Air Frying Group.
Recipe
Air Fryer Frozen Chicken Fries
Air Fryer Frozen Chicken Fries are a convenient snack you can whip up in 10 minutes. They're super easy to make and come out crispy.
Ingredients
½

lb

frozen chicken fries
Instructions
Preheat Air Fryer at 400 degrees F for 2 to 3 minutes.

Spray Air fryer basket with cooking spray (not PAM) and place the frozen chicken fries in a single layer. You can spray the chicken fries with a light oil coating for extra crunch.

Air fry frozen fish sticks for 6-8 minutes until golden and crispy, turning them once halfway.

Remove from the Air fryer and serve with your favorite sauce. It'll crisp up more as it cools down.
Notes
Store leftovers in an airtight container in the fridge for 5 days.
Reheat fish sticks in the air fryer at 375˚F for a few minutes until warm.
Nutrition
Serving:
6
fries
Calories:
150
kcal
Total Carbs:
13
g
Protein:
8
g
Fat:
7
g
Saturated Fat:
1.5
g
Sodium:
270
mg
Fiber:
1
g
Calcium:
10
mg
Iron:
1
mg
Tried this recipe?
If you like this recipe, I'd love if you can give me a rating and comment! Share this with your family and friends!