Jump to:
Learn how to make an authentic, easy guacamole recipe. I have a few simple tricks to make it irresistible. Read on.
You just need a few ingredients and a simple tool to make this authentic guacamole recipe. What you get is a luscious, creamy dip that you can never get enough of.
Ingredients
No fancy ingredients, spices or preservatives. Just the basics. We always have avocados on hand and this is a great way to use them.
Avocados
onions - I love using shallots.
jalapenos
salt
lime juice
cilantro/coriander leaves
How to make it authentic
Traditionally, Mexicans use Molcajete ( a large mortar and pestle made of volcanic stone) to crush the onions and chili for the guacamole. This is what gives the authentic flavour, the extra boost for the bland avocados to shine, the "mmmm" factor. This takes the guacamole from "meh" to "Wow". Since most of us don't have a Molcajete, we can use a normal mortar and pestle.
And if you don't have a mortar and pestle, you can use a fork to crush the onions and chili.
Some recipes use garlic and personally I don't see the need for it. It overpowers the dip.
Same for tomatoes as well. They will turn the guacamole to a watery mess unless you remove the pulp. So it's better to avoid it altogether.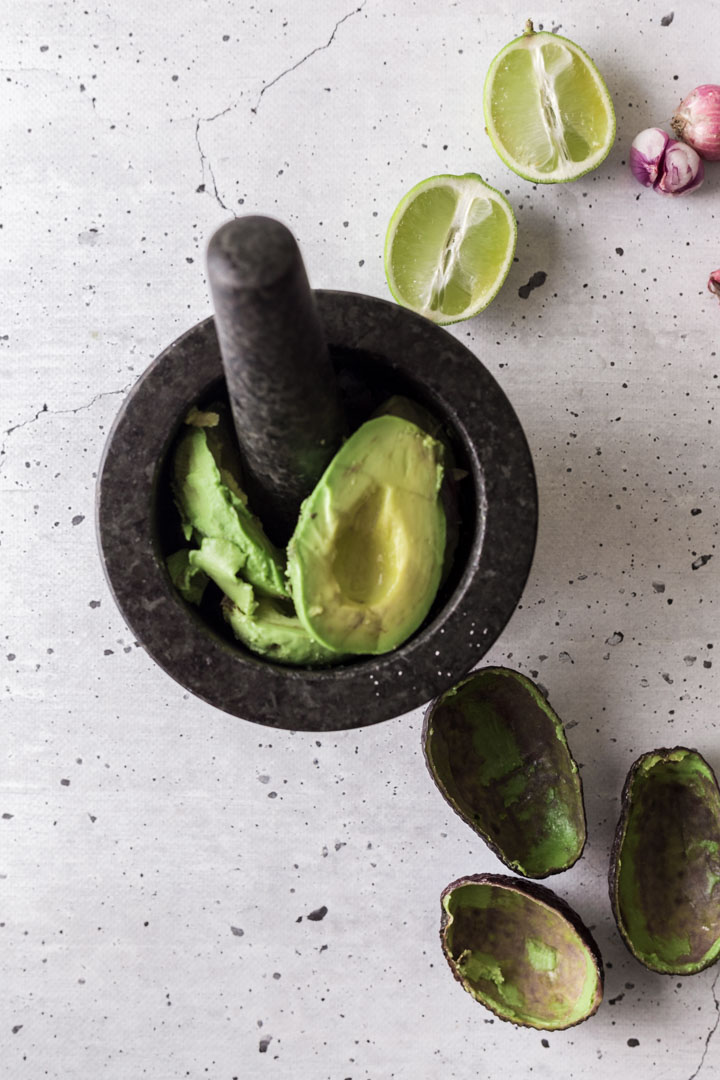 How to make
Start with fresh avocados. When you press the skin with your finger it will be ripe but firm. If it's too ripe it will be squishy. When you cut open you'd find brown flesh. If it's still intact and green go ahead and use it in the guacamole.
I love to use chopped shallots. Back in Sri Lanka, my grandmother used to make dips and condiments using shallots in the mortar and pestle and I've stuck to that. Shallots bring an onion-y pungency to the dish. Use red onion or white onion instead of shallots. Mash the chopped onion and chopped jalapeno with salt until it's mixed well and onions has released a bit of water. Alternatively, you use a fork to mash the chopped onion and jalapeno on a cutting board.
Add the avocados and break it into pieces using the pestle. Mash it until it's creamy and mixed together. It will mix in easily. Add the cilantro. Mix it in.
When adding lime juice start small and gradually increase until your desired sourness is reached. You don't want to use too much lime juice and mask the creamy taste of avocados. I use use 2 to 3 teaspoons of lime juice for 2 large avocados or 3 medium ones.
How to store
Fresh is best. Make a small batch and use it immediately. We never have guacamole lying around in the house. If there's any leftover I'll finish it within the day.
If you must make it last long, you can do several things. Put the guacamole in an airtight container and pour some lime juice on top and spread it evenly. Cover it with a piece of cling film, close with the lid and refrigerate.
Or use a thin layer of oil as suggested by Nagi of RecipeTinEats. Discard the oil before you use or mix it in. Use a neutral flavored oil like Canola or Grapeseed and you won't feel any difference. I like to store my guacamole like this. It will last for maximum 2 days.
How to use
Serve guacamole with corn tortilla chips or plantain chips.
Add a dollop to your burrito or nachos.
Will be great on your Buddha bowl.
I like it spread on my toast.
If you make any of my recipes, tag me #loveandotherspices on Instagram and follow me there. Follow me on Pinterest and pin my image.

Recipe
Easy authentic guacamole recipe
Learn how to make an authentic, easy guacamole recipe with a few simple tricks and a tool to make it irresistible that you can't get enough of.
Ingredients
3

medium avocados or 2 large ones

halved and pitted

¼

cup

chopped shallots

1

jalapeno

chopped

¼

cup

chopped cilantro/coriander leaves

½

teaspoon

salt

2 to 3

teaspoon

lime juice
Instructions
Add chopped onion and jalapeno to mortar and mash. Add salt and mash until a bit of water is released.

Add the pitted avocados and mash it using the pestle. Combine everything. Add the cilantro and mix it in. You can leave it chunky or mash until it is creamy.

Start with 2 teaspoon of lime. Use a spoon to mix it in. Add more if you need to. Check salt and add more if needed. Transfer to a serving bowl.

Alternatively, crush the onion and jalapeno using a fork on a cutting board. Transfer to a bowl. Add salt. Mash in the avocados. Add cilantro and lime juice. Mash everything together using the fork.
Notes
Storing tips:
Store in an airtight container. Pour some lime juice on top and spread it. Cover with a cling film. Cover with the lid and refrigerate.
Or add a thin layer of neutral flavored oil on top and cover with the lid.
Will last for about 2 days in the refrigerator.
Tried this recipe?
If you like this recipe, I'd love if you can give me a rating and comment! Share this with your family and friends!